What We Do
Located in Houston, we design and install Audio, Video, Lighting & Automation systems for:
Church / House of Worship
Small Business / Commercial
Corporate / Conference Rooms
Residential / Home Theaters
Educational
Auditoriums / Classrooms
Boardrooms
Sporting Arenas
Performing Arts Centers
Our Philosophy
'Keep it simple'
We strive to design and install systems that increase your productivity at work and enjoyment at home.
Anything less means we haven't completed the task.
James R. "Jay" Bole, Jr.
President and Managing Partner of Hi-Fi Doc, LLC.

since 2000
Hi-Fi Doc is an (AV) audio / video / sound / lighting / automation systems integration company serving commercial, educational, church, performing arts, and high-end residential markets in Houston and surrounding counties.
Jay has over 25 years in business management, engineering management and the design of acoustic hardware and software.
Jay's background is in acoustics for the oil/gas industry where he quickly climbed the ranks in large companies such as Western Geophysical, DigiCourse and Input/Output, Inc. (now ION Geophysical).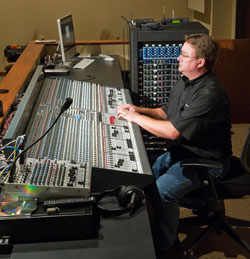 His skills and experience have been applied to managing responsible growth of two fast growing concerns in both the audio / video contracting and general contracting fields.