What We Do
Located in Houston, we design and install Audio, Video, Lighting & Automation systems for:
Church / House of Worship
Small Business / Commercial
Corporate / Conference Rooms
Residential / Home Theaters
Educational
Auditoriums / Classrooms
Boardrooms
Sporting Arenas
Performing Arts Centers
Our Philosophy
'Keep it simple'
We strive to design and install systems that increase your productivity at work and enjoyment at home.
Anything less means we haven't completed the task.
HI-FI DOC's Service Van #1
after 23 years and 332,785 miles, HFD's 1984 custom van was retired!
Back in the 70's and 80's many of the prestigious neighborhoods that Michael worked in frowned on large "TV repair trucks" loudly announcing to all that a new color TV was being delivered.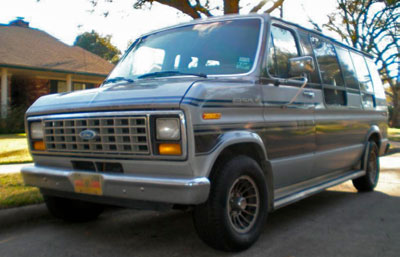 His answer to that was a custom van (popular in those days). It was kitted out to accommodate all the tools and supplies needed to discreetly install the new TV and HI-FI sound system which he set up to work together cleanly and elegantly.
Many people marveled at the way this magical van's interior was organized for full installation and service work.