What We Do
Located in Houston, we design and install Audio, Video, Lighting & Automation systems for:
Church / House of Worship
Small Business / Commercial
Corporate / Conference Rooms
Residential / Home Theaters
Educational
Auditoriums / Classrooms
Boardrooms
Sporting Arenas
Performing Arts Centers
Our Philosophy
'Keep it simple'
We strive to design and install systems that increase your productivity at work and enjoyment at home.
Anything less means we haven't completed the task.

Participating in Church / House of Worship
audio visual and lighting systems is both a joy and a responsibility.
Hi-Fi Doc gives each congregation the tools to enhance their unique worship experience while honoring the intended look and feel of the space. At the same time we work closely with church leaders to ensure their resources are used wisely and appropriately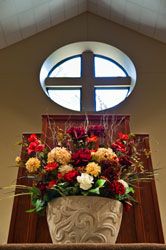 We provide systems to consultant designed specifications as well as providing Design Build services. For Design Build services we develop the design in-house to meet your specific budget and goals. If needed, we continue the design into a "value engineering" phase, which not only ensures the most important features are included, but also provides a foundational system which can be built upon as your needs expand.

House of Worship systems represent about 70% of our projects.